When Teachers Make a Difference: Thank You Note Edition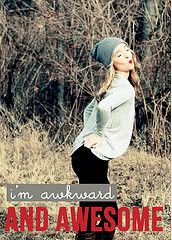 I am working on a template for a Thank You Note to Students From Their Teacher…. and it's a bit more difficult than I imagined.
I'm linking up today at a few places, but the best one is over at The Day Book because as I think about wrapping up the end of the school year their link party is titled Awkward and Awesome… I can't think of a better way to describe my 7th grade students. As the year winds down, I want to be able to tell them just exactly how awesome they are. In doing so, I have the bright idea of writing each one of them a personal note letting them know how much they shine, and how much they've meant to me. I didn't think about how much of an undertaking this was going to be before I started! Its starting to be a time consuming project,  but I want to make each of them personal to the student and I want to make them feel special. So here's what I've got as a basic template.
It is important to let kids know that they matter.
Click To Tweet
---
Dear ______________,
It's that time of year again, and I am faced with the sad ending of our time together. It's a little bit bittersweet to be saying goodbye. This is especially true since I've been able to be with most of you for two full years. I am sad to see you move on to 8th grade, but it's so sweet to see all the personal and academic growth you have made in the 7th grade. I am especially proud of you for your growth in _____________.
I want to take a moment to thank you for being the awesome kids you are. First, thank you for being patient and honest with me. This was my first year teaching 7th grade at _______School and there were times when I was learning too. I appreciate how willing you all were to just go with the flow and give feedback when you thought something wasn't running as smoothly as it could. We had a lot of laughs this year, I will always remember ______________________________________.
I hope you always remember that you are capable of much more than you think you are. We read incredibly complex books this year and I am so proud of the thinking skills you were able to develop!
Most importantly, thank you for your positive attitude and your willingness to learn something awesome every single day. I love this job, I love hanging out with you guys and I love watching you learn.
I will always consider myself your teacher, and you will always be "my kids".  Don't hesitate to come see me as you progress through your academic career, I like to know you're making good choices and being kind.
When you look back on 7th grade a year from now, ten years from now, fifty years from now, I don't know if you'll remember much of what you learned, but I hope you remember you were very, very loved and you are incredibly special.
Go. Do great things. (I know you will). I'll be cheering you on from here.
So much love,